Shopkins Season 5 Mega Pack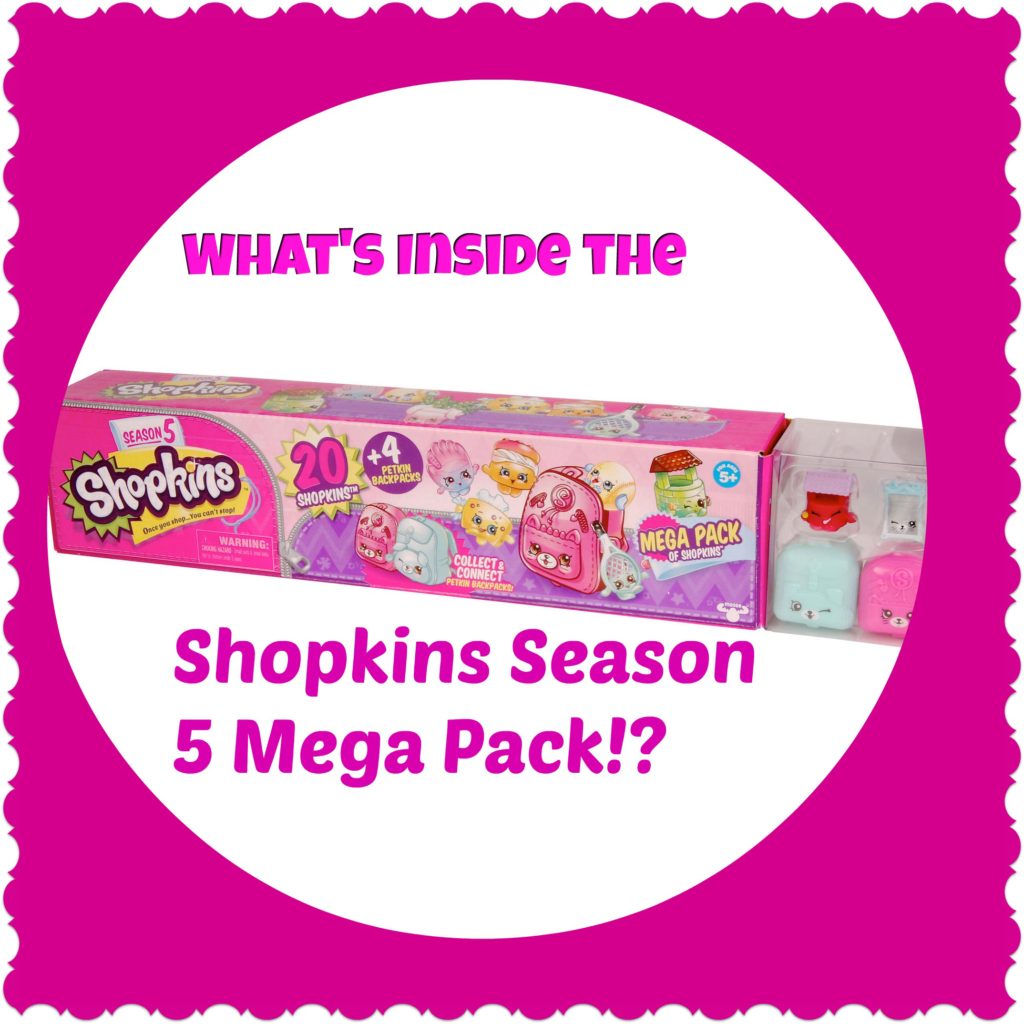 Wow, I can't believe that I am talking about Shopkins Season 5 Mega pack and I'm still not over buying Season 1 Shopkins! (Just got an order of those in the mail yesterday!).
My order yesterday included various Shopkins from all the seasons but of course I'm especially excited about the Shopkins Season 5 mega pack! A Shopkins mega pack is my favorite way to collect the most Shopkins!
What's Inside the Shopkins Season 5 Mega pack?
If you have not bought a Shopkins mega pack before, here is what they *usually* contain:
20 Shopkins characters
6 Shopping bags
1 Shopping basket
NOTE!  The usual Shopkins bags and basket in the Season 5 mega pack are now replaced
with 4 Shopkins Petkins Backpacks!  Really adorable!
The Shopkins mega pack looks like a long tube with a clear section on one end.  In that clear section you can see that 2 of the Shopkins are visible.  The other 18 characters are a surprise and you should end up with some of the limited edition or rare Shopkins in the set.
I find that the Shopkins mega packs are the cheapest way to build your Shopkins collection.  When you compare the price per Shopkin to the Shopkins 12 packs or 5 packs, it should be less money.  However, the older Shopkins seasons are getting harder to find and so the prices reflect that.
It is always best to buy as many Shopkins as possible when the Season is first released to get the best prices.  I also find that the local retailers run out of stock very fast, so shop early for best selection.
So where can I buy Shopkins if the stores are all out?  Buy Shopkins online !  Amazon usually has the best Shopkins prices there and if you have an Amazon Prime membership then you are not paying extra for shipping. (Try Amazon Prime 30-Day Free Trial
)
Buy Shopkins Online from Amazon
Shopkins Season 5 Limited Edition and Rare Characters
Here is a list of Season 5 characters to watch for:
Shopkins Season 5 Limited Edition characters
Paula Puzzle
Fortune Stella
Lynne Spring
Yolanda Yo-Yo
Blocky
Spinderella
Shopkins Season 5 Rare characters
Katie Skateboard
Bailey Baseball Glove
Lola Roller Blade
Bessy Baseball
Bar B Que
Launa Mower
Clare Chair
Jane Frame
Jen Jug
Dolly Donut
Ollie Orange Cake
Creamy Cookie Cupcake
Linda Layered Cake
Cute Fruit Jello
Plucky Guitar
Fun Drum
Polly Piano
Khia Board
Special Edition Season 5 Shopkins
These Shopkins won't be hard to spot!  The are all Tech related and glow like electronics. They look clear and glow in the dark!
Percy PC
Sammy Speaker
Clicky Mouse
Gabby Gamer
Cam Corder
Lizzy Laptop
Howard Powerboard
Connie Console
Let's hope we all end up with some of these Limited edition and Rare Shopkins in our Shopkins Season 5 Mega Packs!  Happy Shopkins collecting!