The Ultimate Parents Guide to Shopkins 
If you have a young child asking for Shopkins this gift giving season, then you are about to face a dizzying array of choices, price points and out of stock conditions!  You need a Guide to Shopkins buying!  What to buy, where to buy, what it all means!
Shopkins are completely adorable, no doubt about it! They are tiny miniature characters that look like everyday grocery and household items, only with cute faces and names.
To sweeten the pot, Moose Toys includes a Shopkins Collector guide in every pack so that your child will continue to ask for more Shopkins toy sets so they can collect all 148 characters!  And that is just in the Season 1 Shopkins list!  Shopkins Season 6 are now available in the stores and they are doing a Chef/cooking theme this year.  The Shopkins collector guides also itemize the characters that are special edition, rare and ultra rare.  I've got to hand it to them the most clever marketing ever!
Ok, let's break it down on these Shopkins toy sets so you know what to buy.
Guide to Shopkins Toy Sets
The basic Shopkins toy sets come as follows:
Shopkins Blind Bag – This contains 1 Shopkins character only.  I would only buy this if it's for a stocking stuffer or loot bag.
Shopkins 2 Pack – This set is also 'blind', meaning that you won't know what Shopkins characters you have until the pack is opened.  These also come with a Shopping bag, basket or backpack depending on what Shopkins Season you are buying.
Shopkins 5 Pack – This Shopkins toy set has 4 visible Shopkins and 1 hidden character. It also comes with shopping baskets, bags or packs. You will get at least one limited edition Shopkins character.
Shopkins 12 Pack – This set offers good value for the money. You will get 10 visible Shopkins and 2 hidden characters. There will be at least one Special Edition Shopkins toy included. You will also get 5 shopping bags, baskets or packs.
Shopkins 20 pack – Also called the Shopkins Mega Pack.  This set comes in a long skinny tube and only 2 Shopkins characters are visible. The other 18 are a complete surprise which really adds to the fun.  There's a good chance of getting more than 1 rare, ultra rare or special edition Shopkins character inside.
Shopkins S5, 12-Pack

Shopkins S5 Mega Pack

Shopkins S4 5 Pack

---
&
Shopkins Mystery Box – The Shopkins Mystery box was introduced last fall (2015). It came in a black shiny box (very mysterious) with all Shopkins hidden!
The Shopkins Mystery Box 2.0 is a shiny pearlized pink and again all the Shopkins characters are hidden inside. This year there are 24 Shopkins in the box.
The only way to get a good price on this set is to buy it if you see it in the store or on Amazon well before Christmas. They run out fast and online prices skyrocket as you get closer to Christmas.
Note: Every set, including the smallest blind bags come with the Shopkins Collector guide.
&
&
---
The Seasonal Guide to Shopkins
Season 1 Shopkins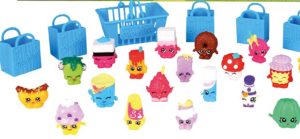 Shopkins Season 1 sets feature blue shopping baskets and bags and grocery items with cute little faces.
This was the first release of Shopkins by Moose Toys in June 2014.
You can still buy Season 1 Shopkins online and they even show up now and then (if you are lucky) in a regular store.  If you see them, grab them because they are discontinued!
Season 2 Shopkins  – The main change for Season 2 Shopkins was the shopping bags and baskets were now purple and there were more characters added. Season 2 also saw the introduction of the Shopkins playsets such as Vending Machine, the large Pink Shopping Cart and The So Cool Fridge.
Season 3 Shopkins –  Season 3 Shopkins brought more interesting new characters, turquoise shopping bags, a large blue Shopping cart set and the introduction of the Shopkins Food Fair collection.
Shopkins Season 2 (5-Pack) (Styles Will Vary) (Discontinued by manufacturer)
Shopkins Season 3 (12-Pack) – Characters May Vary (Discontinued by manufacturer)
Shopkins Season 3 Food Themed Pack Cupcake Collection
&
Season 4 Shopkins
This season saw many more sets including Fashion theme sets such as the Ballet Collection.
Petkins were also introduced which gave cute little animal faces to many of the characters.
The 5 packs come with pink carriers to tote the Petkins around in. The Season 4 12 packs come with glittery purple baskets.
There were more large playsets in Season 4 with Limited Edition Shopkins that came only in those sets.
Season 5 Shopkins – Season 5 brought more Petkins and the cutest Petkins backpacks!
The backpacks are called 'Connect and Collect' and can be connected together.
You also got a Limited Edition Shopkins charm in every 5 pack and 2 charms in every 12 pack. There are 36 Limited Edition Charms to collect.
For a list of all Season 5 Limited edition, Rare and Ultra rare Shopkins, check this previous post.
And here we end our Guide to Shopkins toys at Season 6 (November 2016).  Season 6 Shopkins have a Chef and cooking theme. I have to say I am really liking these.  You get cooking utensils with those adorable faces (called Cutensils). The Shopkins 2 packs come in little mason jars.  And instead of Shopping bags and baskets, the Shopkins characters come inside little Recipe books.  Very cute!  Since these were just released, expect these to be super hard to find and very hot for Christmas 2016!
Shopkins Season 6 Chef Club, 12 Pack
Shopkins Season 6 Chef Club Mega Pack
Shopkins Chef Club Hot Spot Kitchen Playset
&
As you can see, there are so many choices with Shopkins!  This guide to Shopkins toys only covered the basic sets!  There will be another guide to all the spin off toys such as Shoppies dolls, Happy Places sets and all the Shopkins accessories now available.
Also check out the Season 2-6 Shopkins larger playsets below