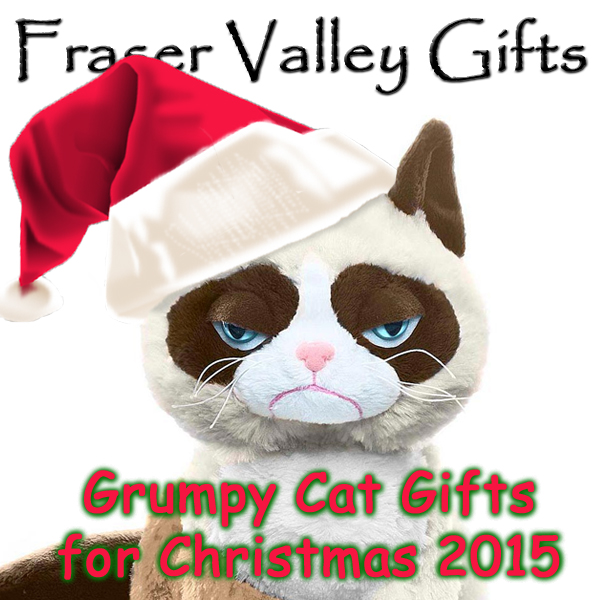 I never get tired of seeing Grumpy Cat memes on my Facebook feed, they are usually quite hilarious!  Almost everyone is familiar with this character and this is why I think Grumpy Cat gifts are a good way to go to cover many casual adult gift giving situations.
Who are Grumpy Cat Gifts best suited for?
Office co-workers
People who love and collect cat items
People who collect plush
That certain 'grumpy' person on your gift list
People who enjoy the dry humor of Grumpy cat
Secret Santa gift parties
As a toy seller, I can tell you that Grumpy Cat Gifts are extremely popular for people who work in large offices, schools and government.
Grumpy Cat seems to say just the right things that resonate with people who have to deal with office politics and with, well those grumpy co-workers. It just fits!
I can just imagine in many high stress jobs you simply need to glance over at your Grumpy Cat toy or mousepad and you can't help but smile.
&
&
What are the best Grumpy Cat Gifts available?
There is a wide variety of Grumpy Cat gift ideas for every budget and every need. There are cards, luggage tags, keychains, window clings, and Grumpy Cat plush toys of all sizes.  Here are my picks for best Grumpy Cat gifts.
Grumpy Cat Gift Ideas for Office Co-workers
 Grumpy Cat Black No Mug

 Grumpy Cat Year-In-A-Box Calendar (2016)

 Grumpy Cat Mouse Pad

Grumpy Cat Plush Toys for Collectors
I sell a lot of these Ganz Grumpy Cat plush toys.  I like Ganz because they are a smaller company and the plush is very well made.  The stitching is tight and the fur is soft and very touchable. The eyes and whiskers are not going anywhere and so for people who like to collect cat plush or Grumpy plush, these are the best choice.
 Grumpy Cat

 Ganz Grumpy Cat Ball 7

 Ganz Grumpy Cat Laying Plush, 8

 Grumpy Cat in Holiday Sweater

Right now, I'm loving this Grumpy Cat plush wearing an ugly Christmas Sweater.
I plan to bring one of these along to our Christmas party and this will be my Secret Santa gift. It's a perfect choice for those situations where you need a casual gift and it has to be under $15.
Doesn't he look happy dressed up in his festive holiday colors!?
Another place that has a huge Grumpy Cat gift selection is Zazzle.  If you have never shopped on Zazzle prepare to have your mind blown!  The thing I like best and what makes it perfect for gift giving is that most of the items can be customized with your own words!  Think of the possibilities!  When I did my search for Grumpy Cat gift items , Zazzle returned all these possibilities!  This is an officially licensed store within Zazzle, so you can buy knowing that the quality will be top notch.
I have given you the two best sources for Grumpy Cat gift items if you are shopping in the US or internationally.  If you are a Canadian shopper, you can check out my Grumpy Cat items here, but be warned, we have trouble keeping them in stock, especially in the Fall and Winter.
Have a great time shopping!  I'm sure Grumpy Cat would say Bah Humbug!